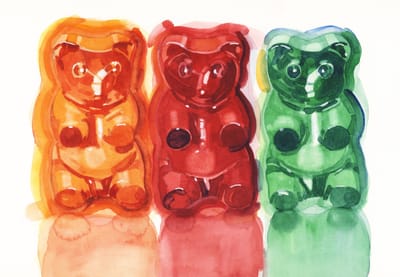 Thank you for visiting this site! A graphic designer and illustrator, Dick also enjoys the spontaneity of watercolor painting. His work elevates the status of everyday objects through the use of heroic composition, dramatic shadows and rich colors. There is irony and even humor in the earnest renderings of peppermints, sour balls and gummy bears. A resident of Cincinnati, Dick has exhibited his work in juried art fairs in Chicago, Ann Arbor, Indianapolis, Lexington, Louisville, Madison and Columbus.
Dick has had watercolors accepted to juried international exhibitions in Houston, San Diego, Kansas City, Charlotte, Minnesota and Denver. His graphic design work has won awards from the American Advertising Federation, Graphic Design USA magazine and the Art Directors Club of Cincinnati.
When originals are not available, giclée prints can be purchased in a variety of sizes. Feel free to email with any questions or requests.